Did you know that a young adult in our area is three-times more likely to be unemployed than anyone else in the community? These young people are often trying to lay strong foundations for their families and for the rest of their lives. We know that this is unjust and unfair, and are driven to do something about it.
We heard from India, a member at Union Run Baptist Church in Keswick, who studied cosmetology and massage therapy. But since finishing school, she hasn't been able to find a job and now, she has collection agencies calling her house because of her student debt. You can read the rest of her testimony here.
Another person shared, "I work 3 part-time jobs and I still can't get by."
We've heard cries of despair- that there is nothing that can be done. The problem is too big. Young people don't actually want to work hard. As a justice ministry for the past three years, we have stood against these myths, grounded in the Truth of God's abundance and hope.
We know that our community can do better to bridge the gap between our young people and family-supporting work. Healthcare is the #1 growth industry in our region. There is a shortage of people trained in the healthcare field, because these jobs require post-high school training. 2/3 of young adults in our area do not have any post-high school education. These good, healthcare jobs that give entry to the career ladder are simply out of reach.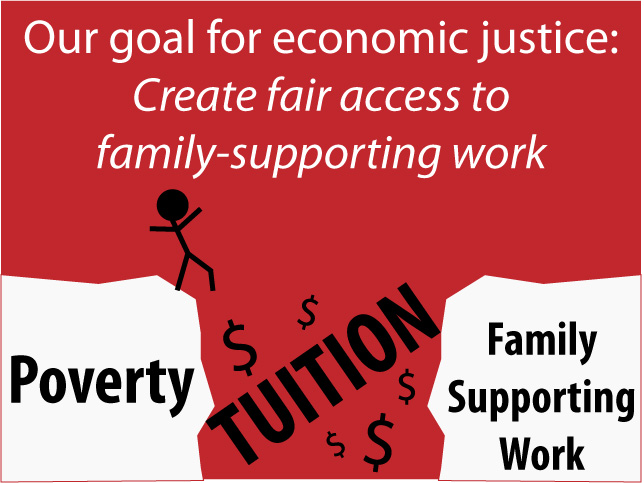 In every research interview, we heard that the most significant barrier for the working poor was the inability to pay for tuition costs up-front. Certification programs for many of these growing fields on average, cost at least $1,000. With little to no financial aid or scholarships for these programs, $1,000 is simply out of reach. We also learned that just one year of job training or community college is the tipping point from poverty to family-supporting work.
We are seeking fair access to family-supporting work for our young adults. To make this happen, we have worked with University of Virginia Health Systems. At the Nehemiah Action on May 5th, they committed to seeking funding for, and developing a framework for a collaborative to provide tuition waivers and other services for young adults seeking a family-supporting career in healthcare.